lands on hktdc.com Sourcing platform
Offering global digital logistics services and exclusive shipping discounts to tackle the SME supply chain crisis
FreightAmigo, a one-stop supply chain finance platform, has announced its association with hktdc.com Sourcing, the extensive smart enterprise sourcing platform of the Hong Kong Trade Development Council (HKTDC), to offer global digital logistics services and help SMEs and start-ups expand their global business. This marks the first time the HKTDC has collaborated with a start-up to overcome industry challenges. Tight shipping space has resulted in severe challenges to global merchants. As Asia's pioneering international supply chain platform, FreightAmigo reduces cross-border trade costs by leveraging its exclusive AI algorithm to provide services such as one-stop, real-time price comparisons and bookings of air freight, sea freight, rail freight, courier and trucking solutions, shipping document automation, and one-stop arrangements for cargo insurance and custom clearance.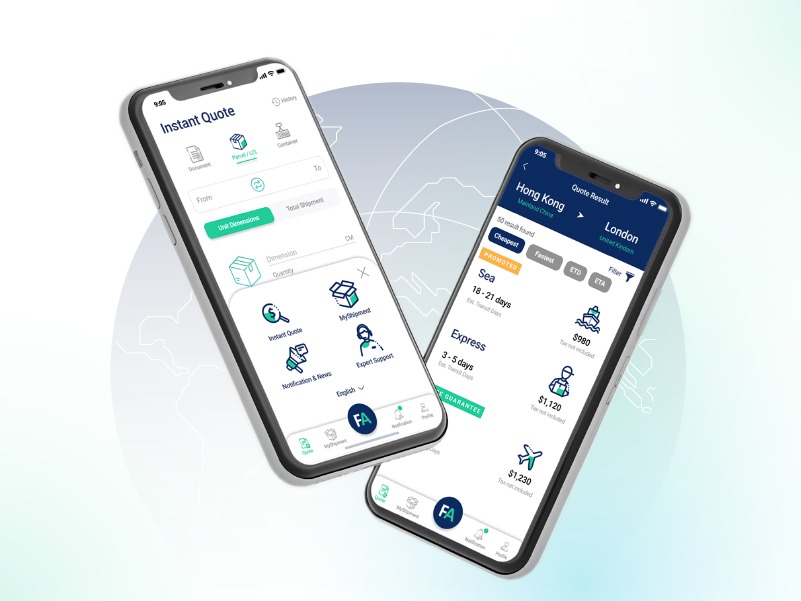 Working with hktdc.com Sourcing to drive digitalisation in logistics sourcing
Heavy reliance on manpower, the complex integration of data, and the slow flow of information in the traditional trading industry hinder SME decision making. To deal with clients' difficulties in supply chain management, FreightAmigo is collaborating with HKTDC by connecting its one-stop supply chain finance platform with Hong Kong's largest digital sourcing platform – hktdc.com Sourcing (https://sourcing.hktdc.com). The two parties are working together to provide market-oriented smart sourcing solutions for over 2,000,000 buyers and 130,000 sellers worldwide, and shipping services reaching over 250 countries and regions. After choosing a product, an enterprise client can compare the five shipping modes, either for sample shipping or bulk shipping, and book the best optionquickly, minimising the standard sourcing workload and shipping costs.
Director of FreightAmigo, Ivy Tse said, "The COVID pandemic forced a change in the sourcing model for many enterprises, and the global supply chain is undergoing the process of transformation. It is our honour to work with HKTDC to provide enterprises with smart logistics sourcing solutions on the Hong Kong's largest enterprise sourcing platform to help clients digitalise the logistics sourcing process. Relieving the burden on operations allows SMEs to focus on business development." With the application of technology, FreightAmigo hopes to contribute to the acceleration of the digital transformation of traditional trade and the post-pandemic economic recovery.
FreightAmigo is providing exclusive offers for hktdc.com Sourcing users. In addition to enjoying free registration, they are entitled to special shipping discount rates of up to HK$3,000 (please refer to the appendix for more details).
Exclusive promo codes on shipping discount are offered to those who registered on hktdc.com Sourcing and became FreightAmigo's enterprise client. Clients incurring the following designated amount of shipping fee are entitled to discounts.
Steps to redeem shipping discount offer:
1Click "Register Now" button
2Fill in the relevant information, register and successfully become an enterprise client of FreightAmigo
3Upload the company's business registration certificate
4Once verified, you will receive multiple discount codes for shipping costs worth HKD3,000 in total by email
If you have any questions, welcome to:
Send an email to hktdc_sourcing@freightAmigo.com or chat with FreightAmigo online customer service.

FreightAmigo = Freightech and Fintech, a 1-stop supply chain eMarketPlace to speed up your logistics flow, information flow and cashflow in the supply chain.
With FreightAmigo's comprehensive logistics solution, raising competitiveness of your business by accepting digital logistics has never been easier.
Key Functions:
1-click to compare airfreight, sea freight, rail freight, courier and cross-border trucking solutions from worldwide service providers
Transparent the logistics cost
Automate your shipment documents
Tracking cargo status over 300 carriers
1-stop to arrange custom clearance and cargo insurance
Online support from global logistics experts
Remarks: Details of the offers - successful registration for new customers*
Offer detail 1 - HKD$20 discount off with minimum shipping fee of HKD$500 (promo codes can be used up to 10 times)
Offer detail 2 - HKD$50 discount off with minimum shipping fee of HKD$1,000 (promo codes can be used up to 9 times)
Offer detail 3 - HKD$200 discount off with minimum shipping fee of HKD$3,000 (promo codes can be used up to 5 times)
Offer detail 4 - HKD$450 discount off with minimum shipping fee of HKD$6,000 (promo codes can be used up to 3 times)
Offers are subject to terms and conditions
* Freightage total amount does not include duties, taxes, customs charges or all surcharges and fees.
Offers are valid by 31st August 2022.