Video length 0 : 51
When My Product is Rejected...
Why product approval is needed?
To protect both the rights of advertisers and buyers, we have a stringent approval mechanism to screen products to be listed on hktdc.com Sourcing. Click here to learn more about our product listing policy.
When Your Product is Rejected…
You will receive a notification email when your product is rejected.
Please login and go to the "Product and Service" page:
Click on the "Rejected report" icon of the rejected product.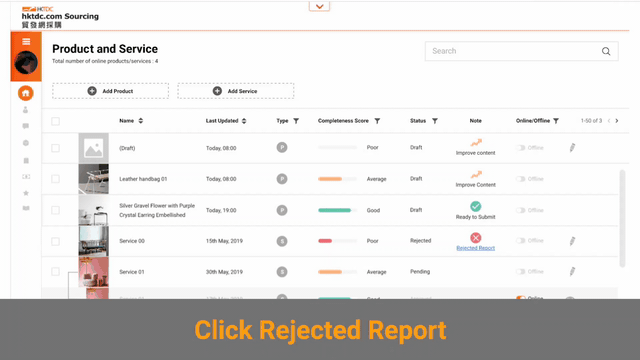 A detailed report with reason(s) of why the product was rejected and respective suggestions will be shown: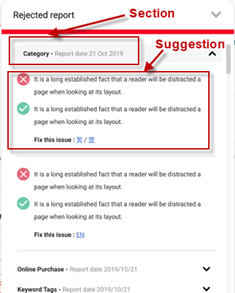 You can edit the product content according to our suggestion(s) and re-submit your product for approval.
Know more our photography tips for product photos if your products are rejected due to photo issues.




Disclaimer:
All information, trademarks, logos, graphics, videos, audio clips, links and other items appearing on this website ('Information') are for reference only and is subject to change at any time without prior notice and at the discretion of hktdc.com. (hereinafter 'hktdc.com', 'the company', 'us', 'we' or 'our').
hktdc.com shall not be liable for any damages (including but not limited to computer virus, system problems or data loss) whatsoever arising in using or in connection with the use of this website by any party. There may be links in this area, which allow you to visit the websites of other companies. These websites are not controlled by hktdc.com. hktdc.com will bear no responsibility and no guarantee to whatsoever Information displayed at such site