Video length 3 : 29

How My Online Promotion Perform on hktdc.com Sourcing?


To review and improve your store performance in online promotion, you will need to get some key figures regarding online promotion.
For your easy review, some key figures in the past three months are provided in My Dashboard section :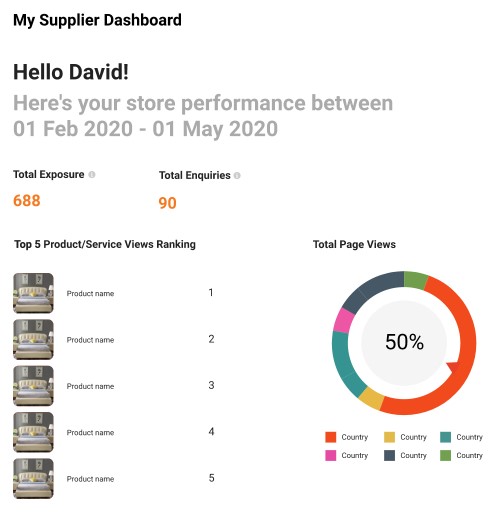 Name of Figures

Definition

Total Exposure

The total no. of times that buyers have viewed your company, products and/or services on hktdc.com Sourcing.

Total Enquiries

This data indicates the total no. of buyer enquiries your company received.

Top 5 Product/Service Views Ranking

This data indicates the ranking of top 5 product/service views of your company.

Total Page Views
(Geographical Distribution of Page Views)

This data indicates the distribution of countries of buyers visited your product, service or company page on hktdc.com Sourcing.

Examples of interpretation & Suggestions
1) If your Total Enquiries number is Low & Total Exposure is Low
It means there is not enough exposure of your product/service on hktdc.com Sourcing.
You should first focus on increasing the exposure of your product/service, so that it may drive more buyers to your product/service page and it in turn may become an enquiry.
To increase the exposure of your product/service, you should:
Improve your product/service content and photo, including adjust the tag to match the trends, as well as

Apply for Paid Exposure
2) If your Total Enquiries number is Low & Total Exposure is High
It means although your product/service exposure is high enough to drive buyers to your product/service page, it cannot be converted to enquiries effectively.
You should review if your product/service content is in the right style and include right content to your target buyers.
Our Total Page Views may also help on your understanding on the buyers visited your product/service/company page on hktdc.com Sourcing, so that you can determine if they are your originally targeted one.
3) If you have applied Paid exposure for one of your products and it is not included in Top 5 Product/Service View Ranking
As the figures of Top 5 product/service view ranking is for the last three months, a paid exposure with 3 days only may not affect too much.


Please consult our sales representative that responsible for your paid exposure. They will give you more suggestions on your case.


Other Functions that may help…
Under the above performance figures section, there is some functions that may help you to improve your store performance: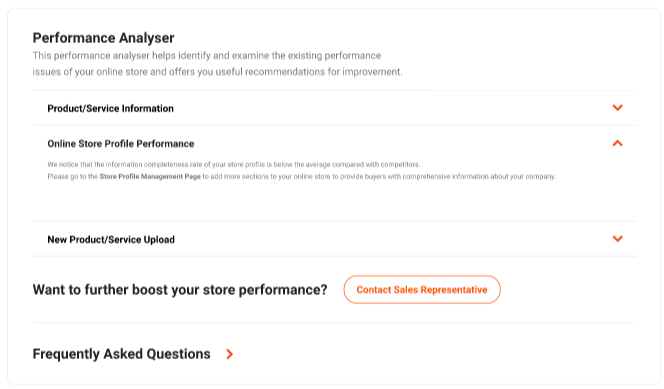 1) Performance Analyzer
It is a system that will examine your store performance based on average response time to buyer enquiries, completeness of product/ service information, online store profile, as well as the frequency of new product/service upload.


They may not be direct indicators that reveal the online promotion performance, but improvement in these three sectors will reinforce the performance.


2) Want to further boost your store performance?
If you have any questions on how to boost your performance, or if you want to try out Paid Exposure function, you may click

.


3) Frequently Asked Questions
Here is a sections with a list of frequently asked questions and their answers for your reference.




Disclaimer:
All information, trademarks, logos, graphics, videos, audio clips, links and other items appearing on this website ('Information') are for reference only and is subject to change at any time without prior notice and at the discretion of hktdc.com. (hereinafter 'hktdc.com', 'the company', 'us', 'we' or 'our').
hktdc.com shall not be liable for any damages (including but not limited to computer virus, system problems or data loss) whatsoever arising in using or in connection with the use of this website by any party. There may be links in this area, which allow you to visit the websites of other companies. These websites are not controlled by hktdc.com. hktdc.com will bear no responsibility and no guarantee to whatsoever Information displayed at such sites.
Also in addition More (Definitions, Synonyms, Translation)