Practical Smart Tips


Be cautious of malicious communications when doing online business
We kindly remind you to be vigilant against suspicious emails or messages that seek to obtain your personal information or to download attachments. To protect yourselves,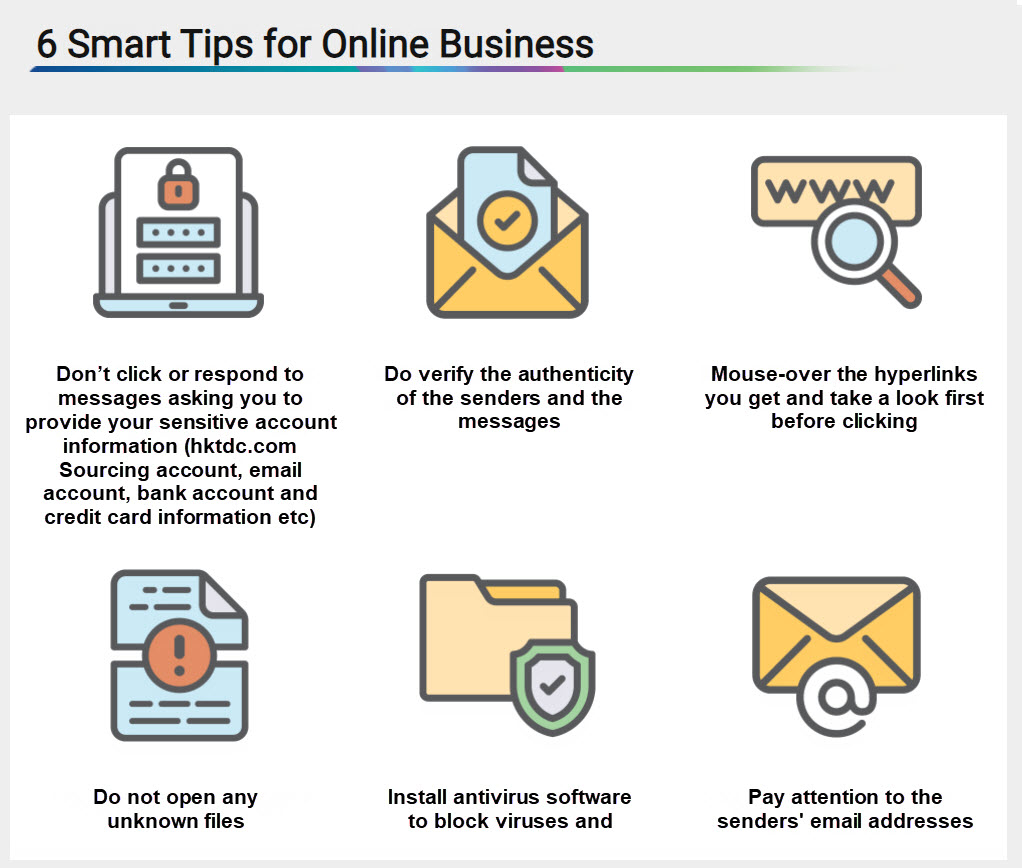 i) Don't click or respond to messages asking you to provide your sensitive account information (hktdc.com Sourcing account, email account, bank account and credit card information etc);
ii) Do verify the authenticity of the senders and the messages;
iii) Mouse-over the hyperlinks you get and take a look first before clicking;
iv) Do not open any unknown files;
v) Install antivirus software to block viruses and malware
vi) Pay attention to the senders' email addresses
Disclaimer:
All information, trademarks, logos, graphics, videos, audio clips, links and other items appearing on this website ('Information') are for reference only and is subject to change at any time without prior notice and at the discretion of hktdc.com. (hereinafter 'hktdc.com', 'the company', 'us', 'we' or 'our').
hktdc.com shall not be liable for any damages (including but not limited to computer virus, system problems or data loss) whatsoever arising in using or in connection with the use of this website by any party. There may be links in this area, which allow you to visit the websites of other companies. These websites are not controlled by hktdc.com. hktdc.com will bear no responsibility and no guarantee to whatsoever Information displayed at such sites.