Video length 1 : 09

Receive Buyer Enquiries via emails


When buyers make or reply enquires, the message will be sent to both the suppliers 's Message Centre and registered email account (from the domain hktdcenquiry@sourcing.hktdc.org)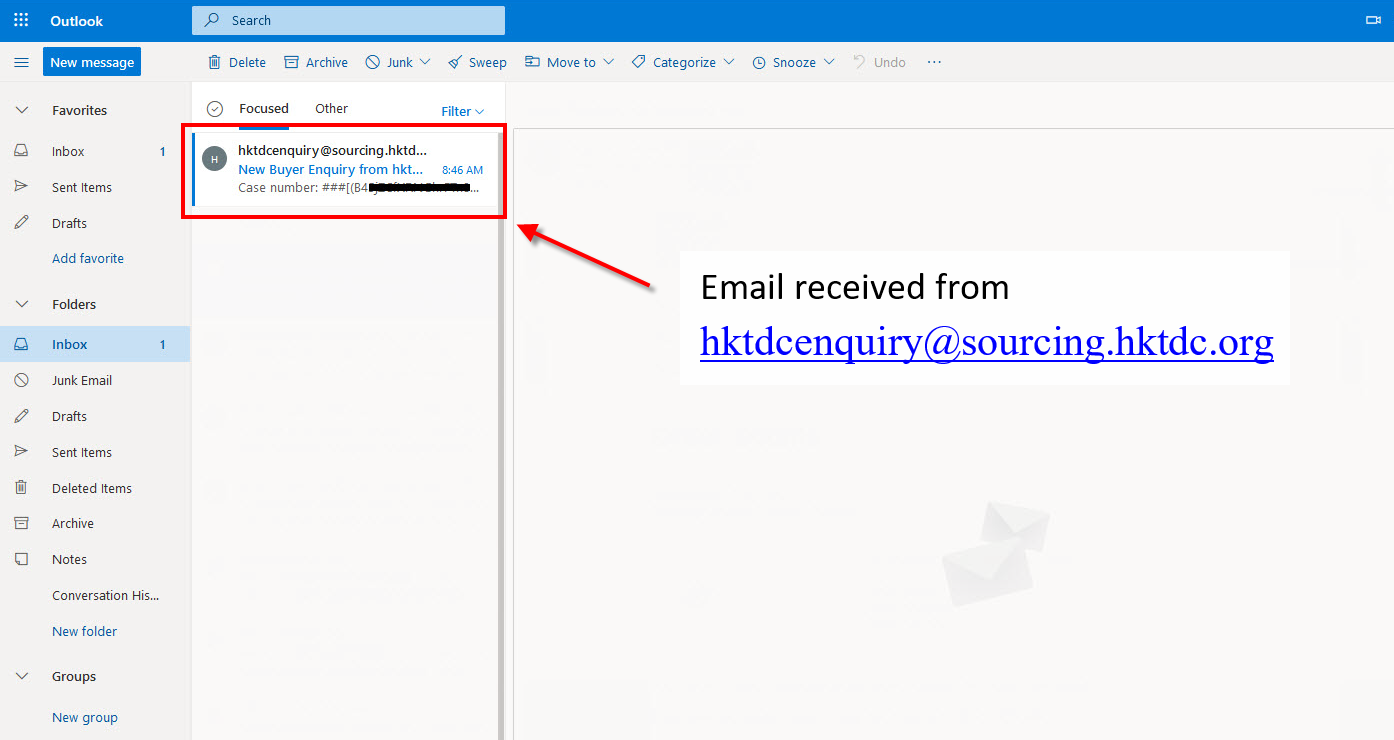 Information about the buyer (Buyer Name, Company Name, Country/Region, Type of business and Email domain) and content of the enquiry (Product Specifications, Enquiry Content and attachment) can be found in the email.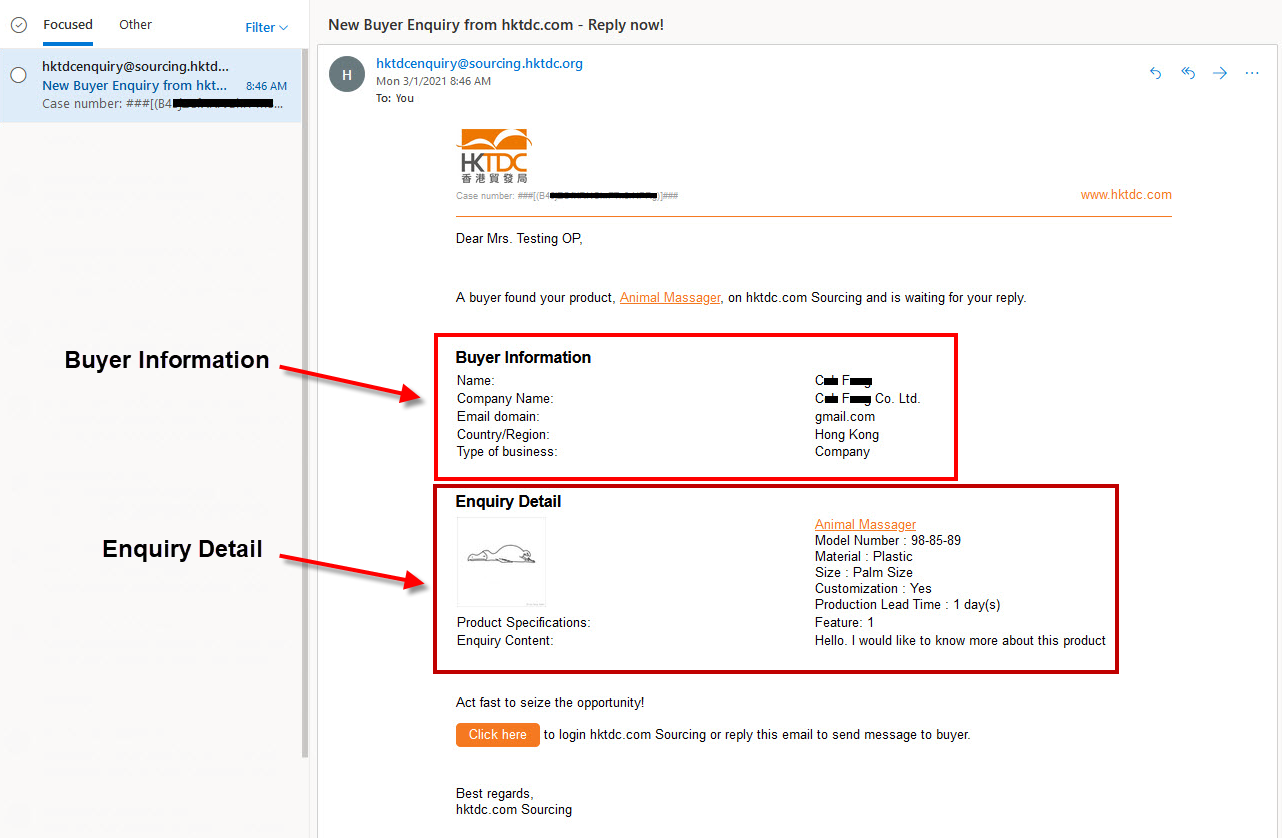 Reply Buyer's Enquiries via emails
Suppliers may reply to the buyers by replying to the received emails (to the domain hktdcenquiry@sourcing.hktdc.org) directly. The messages will be sent to the buyers via both emails and the message centre


*For suppliers with multiple registered accounts, the communications with the buyers will be emailed to all the registered accounts.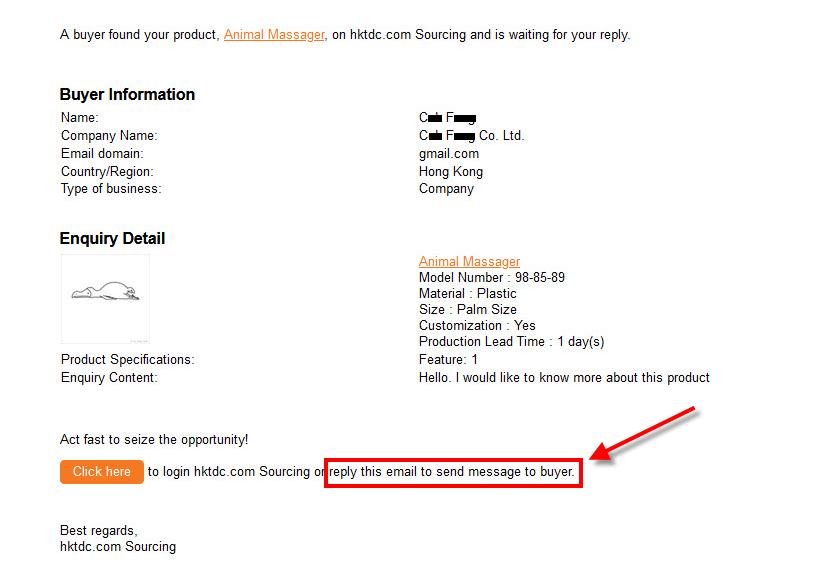 Important Notes:


1) Sending or receiving messages via the email domain (hktdcenquiry@sourcing.hktdc.org) are NOT applicable to non-registered supplier accounts. Please contact your Customer Success Representative or click here to fill in the enquiry form to contact us if you would like to have multiple supplier accounts


2) Communications with buyers can be conducted via emails or message centre. All the messages exchanged (via emails or message centre) can be found at the message centre.


3) For email with attachment(s), an error message will be received by email if:
Single attachment is larger than 5 MB
The attached file type is not jpg/jpeg/png/pdf/bmp/tiff format
The sender has exceeded the daily attachment size limitation (30 MB)
If the above happens, the system will continue to send the message to the receiver without the attachment(s)
How Buyers receive Supplier's reply via emails
Communicate with Buyers via Message Centre
Disclaimer:

All information, trademarks, logos, graphics, videos, audio clips, links and other items appearing on this website ('Information') are for reference only and is subject to change at any time without prior notice and at the discretion of hktdc.com. (hereinafter 'hktdc.com', 'the company', 'us', 'we' or 'our').

hktdc.com shall not be liable for any damages (including but not limited to computer virus, system problems or data loss) whatsoever arising in using or in connection with the use of this website by any party. There may be links in this area, which allow you to visit the websites of other companies. These websites are not controlled by hktdc.com. hktdc.com will bear no responsibility and no guarantee to whatsoever Information displayed at such site